In the Grimm fairy tale, Rapunzel was taken from her family by Gothel as payment. She then raised the girl in a tower until a prince came to love her. Circumstances led to her having two newborn children while living on the streets. Despite all this hardship, Rapunzel and the Prince do get a happy end.
In the Disney movie, Tangled, Rapunzel was stolen for her magic hair. Gothel used it to maintain eternal youth. A thief happened to find her and then helped reunite Rapunzel with her long lost family. Somewhere in there, he also realized that he loved her. They get a happily ever aft.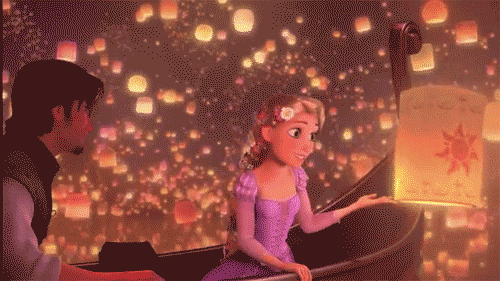 The Grimm's version is full of lessons like, don't be greedy, and life can get better. The Grimm fairy tales were meant as lessons and warnings. Disney movies have a similar reasoning but somehow manage to turn pain and suffering into fun adventures with nothing more then their patented Disney Magic. The lessons in the Disney version are closer to become who you want, believe in yourself, and money isn't everything.
Though there are many differences in the two versions, they boil down to the same thing. A way to teach children life lessons through stories. The Grimm Brothers conveyed their lessons with pain and consequences, whereas Disney uses flowers and rainbows. We all learned our morals and ethics from stories we were told growing up. It just depends when you grew up as to how you learn
Citation:
Tangled Gif, Grimm, Jacob, Wilhelm Grimm, Jack D. Zipes, and Johnny Gruelle. The Complete Fairy Tales of the Brothers Grimm. Toronto: Bantam, 1988. Print. Disney, Tangled, 2010